MPAliens [DEMO]
A downloadable game for Windows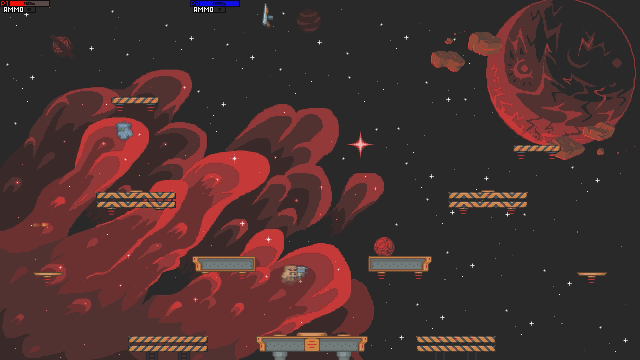 Indiegogo: https://igg.me/at/mpaliens
Twitter: https://twitter.com/Tecka32620497
VK: https://vk.com/skullboxgames
Discord: https://discord.gg/XWuMGMV

Humans, robots and aliens will battle for glory (bacon or tako) on a different arenas,
with different weapon.Win and blasting your friends with railgun, plasmagun, grenade launcher or RPG, use any traps, jump pads, teleports to your advantage.
Features:
Local multiplayer for 2-4 players.
17+ weapons.
4+ skins.
6+ levels with different mechanisms.
Walljump, slideshoots, teleportshoot and other different mechanics.
Controls:
WSAD - Movement; Arrow keys - Movement;
J - Shoot; 1- Shoot;

K - Knife; 2 - Knife;

L - Drop; 3- Drop;
Gamepad control:
DPad or LStick - Movement;
R1 - Shoot (without weapon knife);
A - Jump;
X - Knife;
B - Drop;
Install instructions
After downloading, just unzip the archive and launch the game.
Comments
Log in with itch.io to leave a comment.
This space background looks VERY similar to Steredenn... ;) ;)

Hi!
It looks great !
Is there a linux or web version ?
Hi! Thank you! :3

At the moment i can't added linux or web version, but i'll do my best)